Big Fish Eat The Little Fish
Posted by Patrick James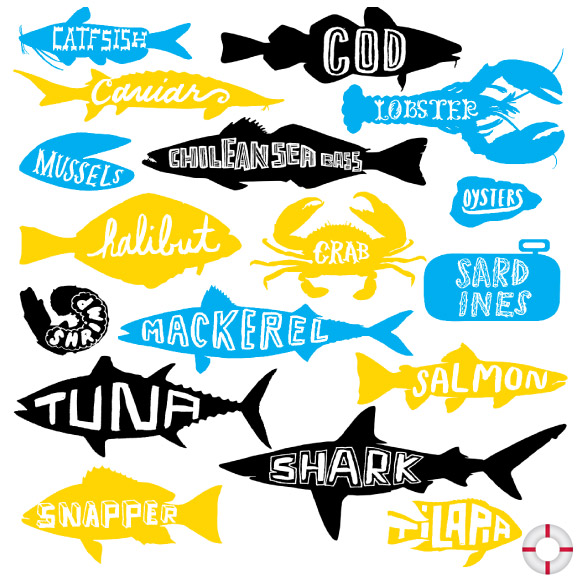 A guide to the best and worst choices for fish consumption.

Any sardine will tell you that all fish were not created equal. Of course, they're not caught equally, either. Overfishing is a serious problem around the world, and many ocean advocates say we need to stop catching and eating fish all together. But since people demand their sushi, we at least must start making responsible purchases, or we're simply going to run out of sea life. Follow this guide, and you can help ensure that we have plenty of fish in the sea for years to come.

Catfish GOOD

Catfish caught or farmed in the United States is a great option (just make sure it is, in fact, U.S.-caught or -farmed).

Caviar MAYBE

Eschew caviar from wild-caught beluga in favor of some from U.S.-farmed fish and you can keep enjoying your pricey treat.
Health risks: Mercury, PCBs

Chilean Sea Bass BAD

Delicious? Maybe. Overfished? You bet. Consider the less glamorous striped bass or mahimahi as alternatives.
Health risks: Mercury

Cod BAD

Stay away from the insanely overfished Atlantic cod (also known as scrod or whitefish). Instead, try U.S.-caught Pacific cod, or opt for bass (not Chilean Sea Bass) as a cooking alternative.

Crab MAYBE

Once again, buy American. As long as you steer clear of the imported stuff, there are plenty of crabs in the sea.
Health risks: Only for some blue crab (Mercury, PCBs)

Halibut MAYBE

Wild-caught Canadian and American halibut (from the Pacific Ocean) is okay, but any Atlantic-caught—sometimes sold as flounder, sole, or hirame—is a no-no.
Health risks: Some mercury

Lobster GOOD

Whether it comes from the United States or Australia, lobster is plentiful and delicious. Just avoid spiny lobster from the Caribbean.

Mackerel GOOD

Also sold as cavalla, kingfish, hog, sierra, spaniard, aji, or sawara. Mackerel is always a safe bet.
Health risks: Spanish and king mackerel can have high levels of mercury.

Salmon MAYBE

Worldwide farming of salmon has plenty of environmental problems (and the product doesn't taste very good), but wild-caught Alaskan salmon is a great choice.
Health risks: None, if it's from Alaska; other-wise, mercury

Sardines GOOD

Sardines. So hot right now—and bountiful. Learn more about these tasty little guys below.

Snapper MAYBE

Yellowtail caught in the United States is fairly abundant, but red snapper… not so much.
Health risks: Mercury—limit servings to one or two a month

Tilapia MAYBE

Tilapia is cheap and widely sold, but the ones from China are probably a bad idea. Stick to U.S.-farmed.

Tuna BAD

Bluefin is severely overfished, as is just about all yellowfin, with the exception of U.S.-caught Atlantic tuna. Canned albacore is a decent alternative, but it's not exactly the same thing.
Health risks: Mercury

Shark BAD

Shark is indescribably overfished, and its demise might be worse for the environment than the loss of fish, so don't even think about shark-fin soup. Pacific halibut can be a good cooking alternative, though.
Health risks: Mercury

Mussels GOOD

Mussels are, by and large, responsibly farmed, so feel free to get moules frites as often as you like.

Oysters GOOD

Oysters are mostly farmed (as opposed to wild-caught) and rightly so. They're fine to eat.

Shrimp BAD

Americans eat more shrimp than any other seafood. Sadly, worldwide shrimp trawling accounts for the most bycatch—when fishing vessels catch and kill species they're not trying to catch—of any commercial fishing practice. However, U.S. Pacific shrimp is a bit better, and pink shrimp from Oregon or British Colombia can actually be a good choice.










Gone Fishin'





Easy ways to cook with little fish.

This we know: Fish are good to eat, and good for you. We also know that the smaller the fish, the better for the environment. But those small fish can be pretty daunting to use, so we asked two chefs to come up with some recipes that someone could easily execute in their home kitchen to get the right kind of fish into their diet.


Baby Beet and Grilled Sardine Salad, Serves 4



From Amy Eubanks, chef de cuisine of BLT Fish, New York City



12 baby beets, peeled

1 cup olive oil

12 sardine filets (from your local fishmonger)

1 bunch watercress

¼ cup candied pistachios

Frisée for garnish




Cover the beets with the olive oil and cook over low heat until tender in a large saucepan. Grill the sardine filets until done. Place beets in a medium bowl and toss with the watercress and the candied pistachios. Lay the grilled sardines on top of the beets, garnish with the frisée. Suggested dressing: a honey-rice wine vinaigrette.


Tuscan Kale Caesar Salad with White Spanish Anchovies, Serves 4


From Shana Pacifico, chef de cuisine of Back Forty, New York City



2 egg yolks

1 tablespoon Dijon mustard

¼ cup lemon juice

3 cloves garlic

3 cups grape seed oil

1 cup grated Parmesan

2 tablespoons Worcestershire sauce

12 white Spanish anchovies (from the jar)

Tabasco sauce




To make the dressing:


In a food processor first add yolks, mustard, lemon juice, and garlic. Let ingredients puree for a minute. Add oil in a slow steady stream, and then add the Parmesan, Worcestershire sauce, six of the anchovies, a few dashes of the Tabasco, and salt and pepper to taste. The dressing should be a loose creamy consistency. If it's not, add water a tablespoon at a time. Adjust seasoning to taste.


To make the salad:


Lightly grill or sauté two bunches of kale. Let it cool and toss with dressing. Top salad with a bit more shaved Parmesan and the additional anchovies.